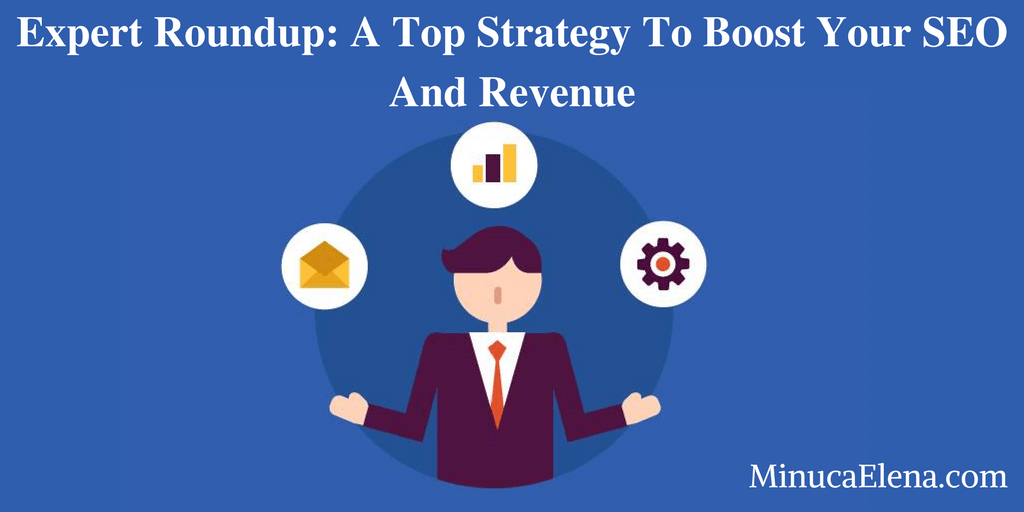 Most people associate expert roundups with new blogs.
Time and time again we have seen how well roundup posts work as a way to create social contact with top industry experts and influencers. It is one of the best things you can do for you site.
Unlike some other types of marketing, such type of content still shows great results in 2017.
So why don't bloggers do experts roundups more often?
There is a great reason for it. It is simply too time-consuming.
In this article, I will share some of the best practices for creating this kind of post and will guide you through the whole process.
These tips are easy to implement by anyone so make sure to stick around and read them all!
What Is An Expert Roundup?
An expert roundup is a piece of content that features key influencers from a particular niche.
Click To Tweet
The website owner or an expert roundup specialist asks them to provide answers to one or several questions that will be included in a blog post.
The question is usually about some popular topic or latest industry news. It needs to be straightforward but broad enough so that more influencers agree to contribute.
Expert roundup experts make initial contact either through social media channels (Facebook or Twitter) or directly via email.
Next let's see the pros and cons of an expert roundup post:
PROS
Every website can benefit from it
It's a great link building strategy
It can do wonders for your SEO and traffic
It is going to connect you to a lot of influencers and online business owners
It can help you increase your readership and brand visibility very quickly
CONS
Expert roundups shouldn't be overused as people may get fed up with them
They can be quite time-consuming
They are not cheap
As you can see, there are a lot of benefits to making an expert roundup post for your blog.
First and foremost, they are inclusive and will generate a lot of traffic, shares, and backlinks.
If done correctly, there is no better way to connect to high authority blogs and their owners. Simply put, there is no better way to start your blogging career.
Still they do take some time to put everything together in a nice looking tidy article.
Unlike common blog post that can be done in a matter of hours or a day, this type of content requires a lot of engagement and back and forth communication.
In fact, if you do it by yourself, it can take you a long time to just compile the list with all the names of the influencers, to extract their contacts details and come up with the final list of potential experts.
This is precisely why professional roundup experts like myself exist.
Now let's discuss in detail how such curated content can benefit your business.
Roundups for Link Building, SEO, and Traffic
There is nothing better than free promotion. Everyone loves it.
By simply interviewing a person you will create a positive first impression. On top of that, you are giving away links and exposure without expecting anything in return.
Everyone loves to be mentioned on some website.
In a way, this can be considered an ego bait.
After doing an interview for a blog, influencers are likely to place a link to this resource reminding their audience how popular they are.
By doing so they are also getting additional traction.
Of course, an influencer doesn't have to give you a backlink. They can simply mention your brand or share the expert roundup post on their social profile.
Have in mind that usually popular bloggers have big followership and such a shout out can give you all you need.
A simple tweet can expose your blog and business to thousands of new people and potential customers.
Click To Tweet
This is a great first step towards overtaking Google search engine results.
No matter what kind of a feedback you get and regardless of the way influencers mention you, you can quickly get a lot of traction.
Have in mind that one roundup is still just one roundup. Even if you nail it and get a lot of traffic it will not be enough.
Ideally, you should do more of them during a longer period of time.
With all that being said, let's see why expert roundup posts are so important for new blogs.
Impact of Roundups on New blogs
Even though an expert roundup can be done at any time, it can do miracles for new blogs or after there is some big news within the niche.
In terms of new sites, it is really hard to create an audience.
This is precisely the reason why most startups fail and never recuperate. Also, this is why internet marketing experts recommend these types of articles for new blogs with little or no traffic.
Roundup posts are a method of "leeching" readers and averting attention to your own blog.
Because you're a new site or business and you cannot reach critical mass so fast, you try to engage influencers who already have a steady readership and grab the attention of their followers.
When they share your post, you can tap into their fans quickly creating a basis for your new website.
But wait! Can such curated pieces of content be used for old, well-established sites too?
Absolutely!
For example, they can be very efficient when there is some hot news trending within the industry.
During this time popular bloggers tend to speculate and are more than willing to give their professional take on a topic.
This is when an expert roundup specialist can come in play and do an interview which will be posted on your blog. It is a soft way of asking someone a question that you'll benefit most from.
Roundups – a Tool for Building Strong Relationships
Although we tend to focus on direct benefits, such as getting links and more traffic, we must mention the benefit of having a direct line of communication with an influencer.
Such a personal relationship is priceless and there are no ways you can measure it in money.
Like with any business, blogging is fairly dependent on relationships. Who you know can be much more impactful than your daily hustle.
Always look at the bigger picture and think long term.
Building strong relationships with other bloggers within your niche can grant you:
Laser focused exposure on social media channels
Increased traffic and profit opportunities
Expansion of your network of contacts
Naturally acquired white hat backlinks which will boost your SEO
One thing you have to keep in mind regarding influential bloggers is that these individuals have already proved themselves and have established a strong market presence.
They are able to make a profit from various sources and oftentimes they get more work than they can handle. This is especially common for medium sized marketing companies.
When something like that happens, there is a good chance they will outsource a part of their extra work to you. Even if this doesn't happen, there is always a potential for some other form of collaboration.
Lastly, it is necessary to mention that renowned professionals have a good pull with successful people who earn a lot of money.
In that regard, you will be able to meet new businessmen through expert roundups and not just some random people but ones with influence.
Main Issues With Expert Roundups
As you can presume, an expert roundup also has some drawbacks.
If you wish to do them by yourself without any help and you don't have any previous experience, it will be a steep road.
First of all, you need to have a list of contacts or to create one from scratch.
You need to find all the right professionals that can potentially promote your brand in the future. This is a real chore as it takes a lot of your time.
On top of that, sometimes it can be really hard finding the right contact of a person (especially the email address).
Ideally, you should hire a well-skilled roundup expert who has the necessary experience and has done lots of successful expert roundup posts in the past.
This will not only save you time but will also increase the potential response rate and thus the success of the whole campaign.
Fortunately, you can outsource this service.
Usually, this price is reasonable and you will be able to dedicate your time to more important things on your blog. In that regard, it can be seen as a viable investment.
Another very important issue when you do roundups by yourself is the fact that people get agitated after some time. In simple words, you can piss off a lot of people within your industry if you don't know what you're doing.
Believe me, you don't want to start on the wrong foot if you truly care about your business.
Anyway, if you're moderate and do roundups occasionally, this won't be an issue. But if you constantly rely on them to build links, traffic and sales this can easily backfire on your brand.
Not only do people get agitated if they are constantly asked questions but there is also a big chance to not hear back from them anymore. Then again, it all depends on a person.
So be careful and pick your battles carefully.
Conclusion
The average expert roundup post takes several weeks to perform.
This is quite a while especially if you're a new website. Nevertheless, I always recommend it as the first step in building your relationships within your niche.
This type of curated content can also be very intriguing if you're working in a dynamic industry. In such case, influencers usually tend to respond more positively as this is something that impacts everyone.
Again, if you are interested in creating roundup content, it is best to hire a professional.
Experts who know their stuff can create amazing posts which will generate a lot of traffic, social shares and backlinks to your site.
This will save you a lot of time and help you increase your conversion.
What are your thoughts on expert roundups? Have you ever hired assistance for this kind of work?
If you want to order an expert roundup for your website, follow me on Twitter or Facebook or send me an email and I will get back to you ASAP.
Also, I'd love to hear your opinions in the comments below!