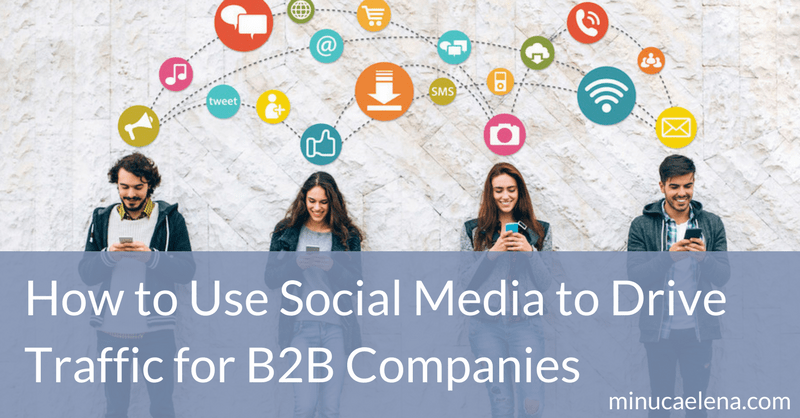 Digital transformations are always exciting. Business owners who've been managing their social media profiles long enough will surely have witnessed how they've all changed over the last 2 years.
Prime examples of this type of transformation are LinkedIn, Facebook and Twitter.
Those social media platforms slowly evolved to become main places where people share their lives, pictures, do networking and read the news.  The marketing potential is now at your fingertips means one thing: you can't ignore it. With over 2 billion active members on all three social media networks combined, it's a potential gold mine of leads, connections, resources and website traffic.
If you think social media marketing isn't right for B2B, you're making a big mistake.
B2B buyers are definitely researching products and services online, and that includes social media. Social media is useful in the B2B environment, and you're about to learn how to harness its incredible power, just like your B2C counterparts.
What Does a B2B Social Media Strategy Look Like?
The strategy is the similar to that of B2C, only the tactics can be slightly different. In both types of marketing, you start out with a complete picture of your customers: who they are and where they are in the buying cycle. You already know the goal: drive traffic to the website.
Now for some strategy as well as some tactics…
Strategy #1: Know Where Your Audience Hangs Out
1. Know Your Buyer Personas
There is one prerequisite here: make sure you have a firm grasp on your buyer personas. Then and only then can you gain the type of insight you need in order to imagine which social platforms your customers are using.
For instance, where do Safety Managers go to find out industry news? Or which platform do they prefer when they need help with something?
2. Here are Some Generalities:
The most popular B2B platforms are not the same as they are for B2C. There's less attention given to Facebook and more given to LinkedIn and Twitter. Why?
Facebook's new algorithm has not been good for company pages. Updates from your company page are now shown less frequently and to a smaller audience.
3. The Best Social Network Examples
Here are some good social platform combos for a sampling of industries:
Software/SaaS LinkedIn, Twitter, Facebook
Cleaning company: Linkedin, Twitter, Facebook, Instagram
Law firm: LinkedIn, Twitter
4. Some are Venturing into Facebook
You'll notice Facebook appears on two of the examples above. Every generality has its exceptions, so it's important to really research your audience and your industry.
To demonstrate that all B2Bs are not alike, take a look at various replies to a B2B social media marketing survey done in the UK:
"We don't use Facebook, with us being a B2B agency we find that Facebook is very consumer facing and not really that relevant."
vs.
"Facebook shows our personality a bit more…we sell ourselves as a bit of a friendly, approachable agency."
5. Don't Forget About Forums. They are a Form of Social Media
To showcase your authority, offer guidance on LinkedIn, Quora, and industry/niche-specific forums. Refrain from making sales pitches, however! Just a link to your website in your profile or signature on the forum is all that's appropriate.
Strategy #2: Make Your Content Mobile-Friendly
Yes, mobile is important for B2B! So important, in fact, that 84 percent of B2B buyers report that their mobile devices are essential to their work.
And what's one of the best ways to reach people via Mobile? Social media, of course. The great thing here is that, by default, all social media sites are mobile-friendly.
On whichever accounts you develop, make sure your images and website previews display properly on mobile devices. Then, for all that traffic you're expecting on your website, make sure your site is mobile-friendly. You definitely want users to have a better mobile experience if you'res successful in getting them to click through to your website.
Strategy #3: Don't Fear Personalization
B2B marketers think that because it's B2B, they can't personalize their content. In truth, however, you don't always need to be tight and formal.
You may also personalize in another sense of the word. This is also known as 'segmentation', where you aim different content at different segments of your audience:
by where they are in the buyer's journey (not aware they need your product yet? information gathering? choosing options? ready to purchase? already a customer?)
by the persona
by the individual
Strategy #4: Make Use of Customer Data
Any social network offers data on the people who follow you or connect with you. Use this data to learn who they are and how they behave. Then, post/tweet the right content at the right times. Be sure to look at industries, countries, interests and other stats to determine the best time and the best type of posts.
Strategy #5: Track Platform Data
You'll want to know which hashtags to use when you post content on social media. Hashtags serve to connect ideas and people across the network of a particular platform.
For example, if you tweet an article about Big Data, you could use the #bigdata hashtag. Then, anyone interested in Big Data and who chooses to explore that hashtag, will see your post even if they're not one of your followers.
To learn which to use, study the metrics on trending hashtags. Here are a few tools to use:
Hashtagify is handy for use finding the more popular hashtags used on Twitter.
Top-Hashtags performs the same service for hashtags, but on Instagram
Facebook Mentions is a tool public figures can use to monitor mentions of their names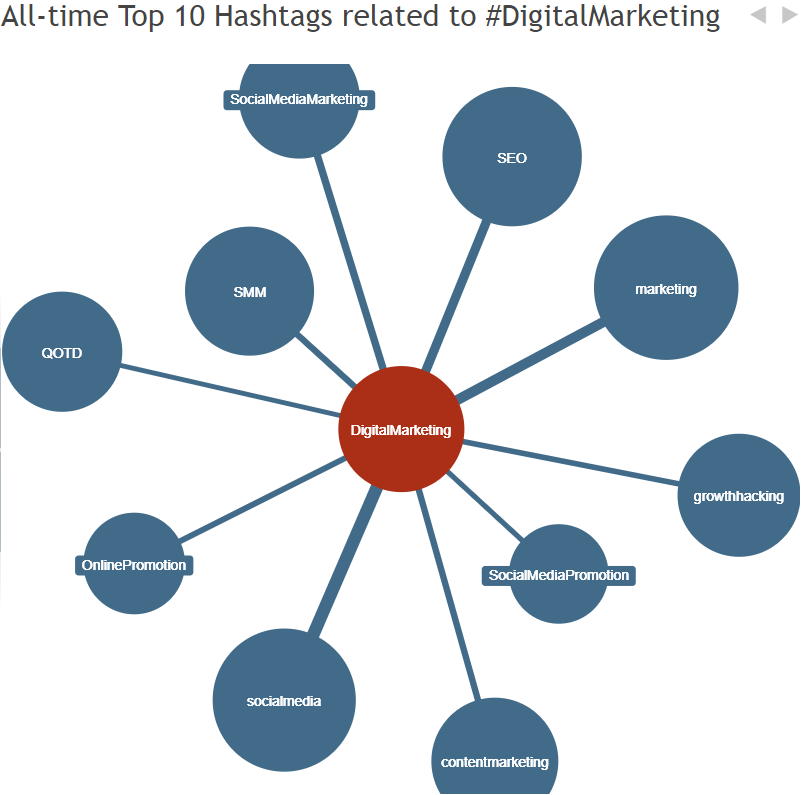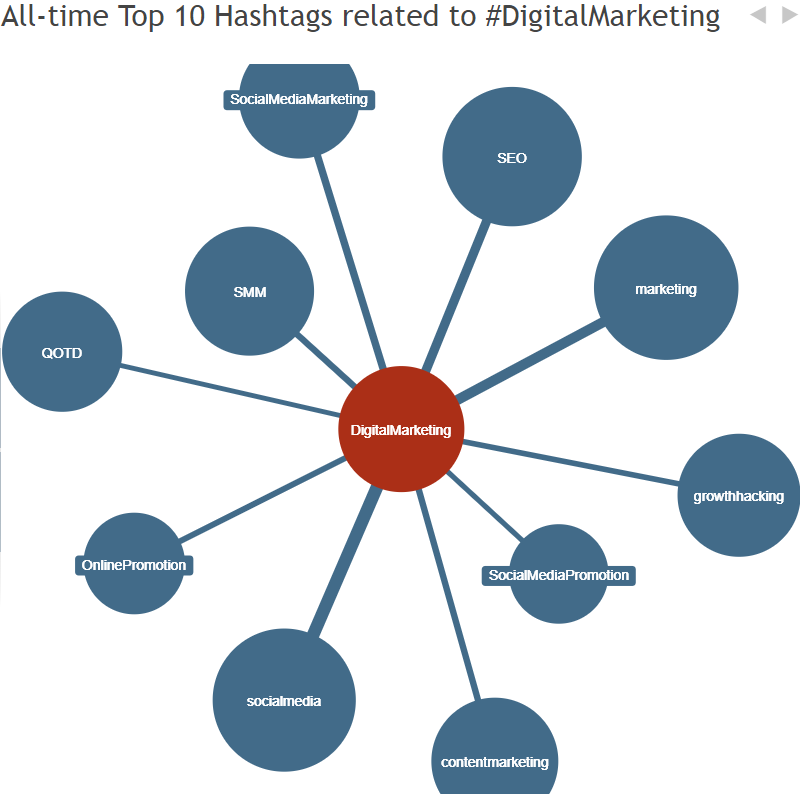 Strategy #6: Combine Social Media With a Well-Designed Content Marketing Strategy
Positioning your company as a thought leader in your industry is important in B2B so content is going to be important. This can include:
Webinars
Videos (these perform better on social media)
Whitepapers
Case Studies
Podcasts
Images (again, better than text in the feed)
Animated GIFs (ditto)
Don't forget to use strong CTAs on your posts.
Strategy #7: Monitor Social Media Platforms
Look for questions on all the platforms that relate to your business, then try and jump in to answer them. Also, monitor for mentions of your brand. These people are more likely to convert because they're further along the customer journey (already aware they need your product, heading into decision phase).
Strategy #8: Automate
Social Media management platforms like Hootsuite, Buffer, Oktopost and others help save time. They allow you to schedule your posting for precise dates and times, when they will roll out via an auto-posting feature in these platforms.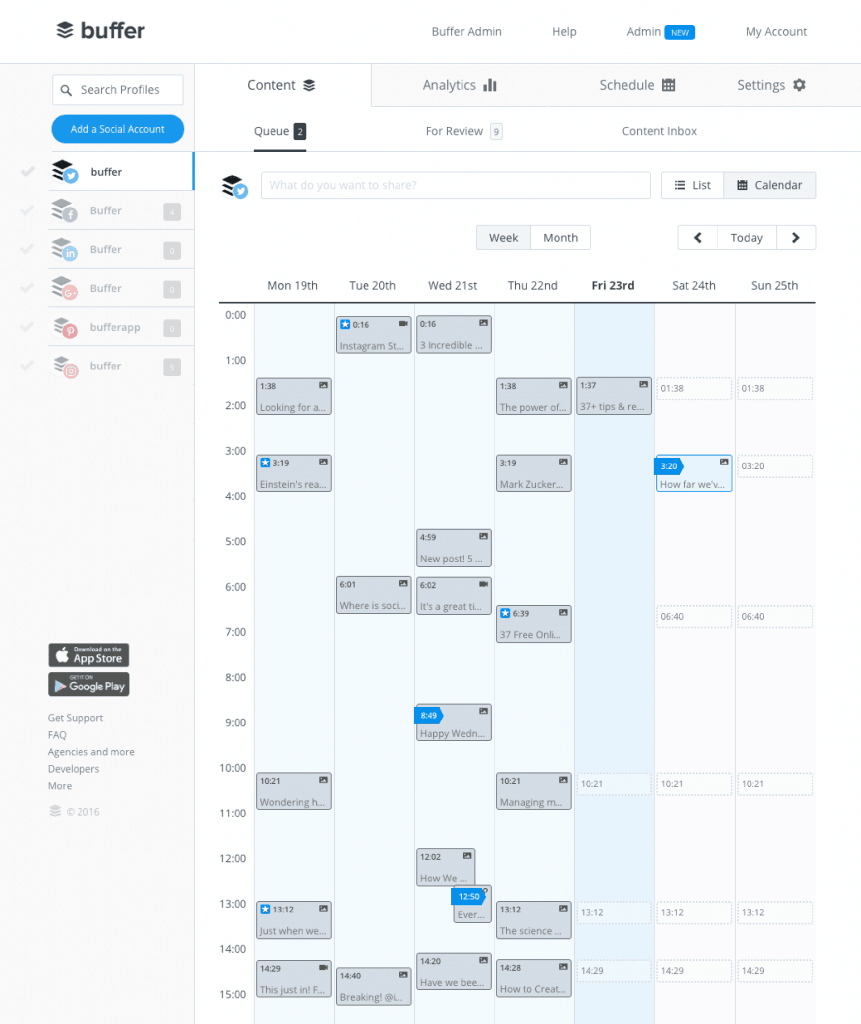 You'll find that automation not only saves time but also allows you increased functionality. For example, you'll be able to check your stats to find out which times are best to post. You'll also be able to track the clicks on each post.
Tip #1: Create Your Account Properly
Branding is important, and should be the starting point for every decision you make while setting up your account. From the colors you choose to the text you write to describe your business in the profile, everything should be consistent with your website branding.
This includes:
putting your logo everywhere
using consistent messaging throughout all your channels and posts
using a big background picture in your header image that includes the company logo
choosing a Twitter handle carefully (@CompanyName) (this goes for every platform, of course)
Tip #2: Best Practices
Learn the best practices for each social network. It's crucial to use images, since they get noticed far more than text. Following that same logic, it's even better to use video. Make sure the website preview has custom images.
In general, you'll want to try and add as many different types of media as you can to mix things up and keep it interesting. You should see a significant uptick in traffic and/or engagement.
There are also best practices that focus on how frequently you should be posting each day on each social network. These are:
Twitter: 3 posts per day
LinkedIn: once per day
Facebook: 2 posts per day
Instagram: 1.5 + times per day
Tip #3: LinkedIn Techniques
LinkedIn is all about leveraging your connections to gain introductions and, hopefully, new connections.
Your customers on LinkedIn might be connected with other great customers. If you're connected with a customer, ask for an introduction to some of their connections.
Find out if any of your connections is connected to companies that you're targeting. Ask for a personal intro.
Form Groups and Join Groups
Post great content on the Pulse blog to increase engagement and exposure
Create your company page and then post news and updates frequently
Tip #4: Twitter Techniques
Twitter is all about engaging with others through Tweets. You can also add people to lists to boost engagement. Here's a list of what you can do to maximize your efforts on Twitter:
Practice retargeting, which is when you focus on people who've already visited your website, in hopes of getting them to advance to a new level of engagement. They are more likely to become leads because they're already visited your site.
Research your hashtags, look for trends and get in on those trends in order to connect with other users. Use the handy search function at the top of your Twitter dashboard to look for hashtags. Punch in your keywords and you'll find that they are most likely hashtags, too.
Use keywords. Put your keywords in your Twitter profile, for starters.
Make it easy to click through. Put your website link in your profile, where it's prominent on the left sidebar.
Add people to lists and hope they will notice and follow you.
Follow some people, hope they will notice and follow you back.
Monitor your mentions. A mention is when another user mentions your company in their Tweet. All mentions, retweets, likes, and new followers are displayed in your Notifications area at the top of your menu when you're logged in.
Tip #5: Facebook Techniques
Retargeting. Putting a bit of tracking code on your website will allow you to target people who've already been to your website. They usually make good prospects because they are presumably already interested in what you have to sell.
Branded images. People pay attention to images because well, we're all visual, to some degree. Put your logo on your images by creating a nice overlay or frame for your images that includes your logo, much like a watermarked image.
Media. Visuals get noticed far more than text. In addition to your branded images, create infographics and upload videos.
Tip #6: Paid Advertising
With paid advertising, you can target almost any person in any company and any region. Here's how it works:
LinkedIn. Target by industry, company, job title, seniority and more. It's perfect for reaching just about any persona. However, the cost it too high, at over $8 per click.
Twitter. Twitter is less costly than LinkedIn but the targeting options aren't as rich. For remarketing, paid Twitter ads work well if you want to gain more followers.
Facebook. Facebook, just like LinkedIn, has a very rich data set on its members. In fact, it's even more extensive, allowing you to target people not only through their business affiliations but also according to their interests, relationships, gender, and much more. Plus, it's cheaper than LinkedIn.
Tip #7: Tracking
Once you start seeing traffic on your website and you're pretty sure it's coming from all your social media efforts, there's another step to take. You'll want to track that traffic. The way to do that is to use UTM codes.
Many social media management platforms like Buffer will automate UTMs so you'll know when a lead that comes in found you via social media.
If you haven't already, install Google Analytics on your website. This will give you deeper insight on where your traffic originates, as well as visitor behavior on your site.
In case you're not sure why it's important to track your traffic, here's a reminder: ROI! Social Media marketing takes a focused effort and dedication for real results. You'll want to know whether all your effort is paying off. By tracking your traffic, you can see exactly where your visitors are coming from, how many of them turn into leads, and how many eventually make a purchase.
A Final Word
ROI: that's a good place to wrap things up. Your goal is increased traffic, and you've learned here what you can do towards that goal. The final piece was measuring the ROI. Hopefully the strategies and tips you've learned today will help you reach your goals and you'll be measuring some satisfying numbers for ROI.