There are a lot of bloggers out there but online few that blog full-time and make money online, and Atish Ranjan, who is one of them, is a successful blogger specialized in SEO. He owns multiple sites, with his main site being Tech Tricks World, where he regularly writes about technology and also about blogging. In this interview, he shares with us the top free blogging tools he uses and also the step by step processes to optimize his posts.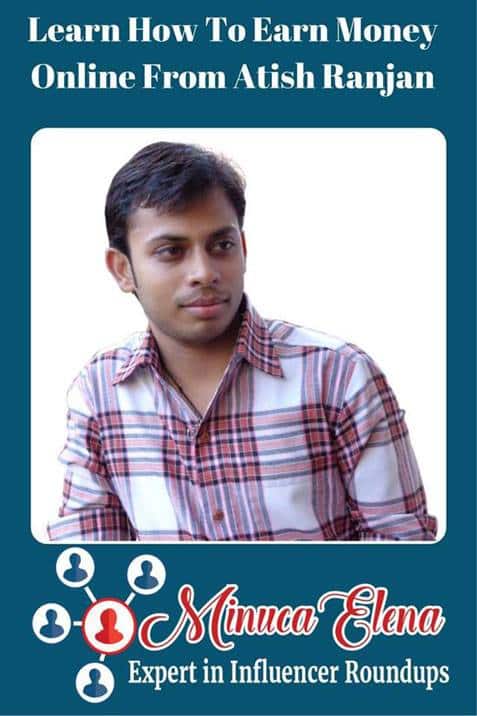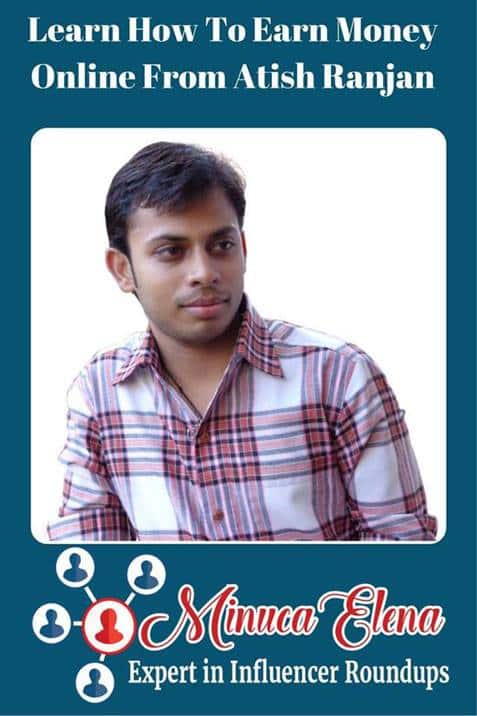 How do you introduce your profession to your friends and family?
Hi Minuca, thanks for having me here on your blog. I am delighted to be here.
My family already knows everything about it because when I started making some money, I explained to them how things work in blogging and other online jobs.
About friends and relatives, it was tough for me to make them understand what do I do for a living. In the early days, I used to tell them that I do freelance work because when I said I earn money online from blogging, they were like "Blogging for money??." They did know that the blogging is a hobby thing.
Initially, I tried to avoid saying too much as people started to ask so many questions, and friends wanted me to teach them to earn income online like I do.
They thought it's easy to earn money online, but I tried to make them understand the full process so that they don't take things wrong and don't get into the problem by starting a blog and then quitting soon due to no earnings.
Now, whenever, someone asks me about my profession, I do tell them that I am a blogger and an internet marketer. That's it! If they got some more questions to ask, I give the answers as per the questions.
Initial days were tough to make anyone understand but gradually blogging is becoming famous and ubiquitous, so people are now much familiar with it, and making them understand is now easier.
So now when someone asks, I proudly tell them that I am a blogger, and I earn money online working from home.
How did you choose your niche?
I loved tech, and that is the reason I started writing about tech. Gradually, I learned about blogging and SEO. Therefore on my blog, I began to write about tech, SEO, blogging, and even about software. It's a multi-niche blog.
There was nothing about choosing the niche; I just started out with what I wanted to write and share with others.
Moreover, I have started a few sites that are solely in one niche, and I selected those niches after thorough keyword research.
The keyword research helped me find the keywords with good search volume yet have low competitions, and that's how I choose niches for my new blog(s).
Competitive analysis is imperative when you are going to choose a niche for your blog. If you don't know how big or how small your competitors are its tough to take profitable decisions.
Do you have one main site or do you manage several blogs?
I have one main site which TechTricksWorld.com and have multiple others that I created to make money by applying various monetization techniques.
Since I work online full-time, I need to try out all legitimate and possible ways to earn money online so I can pay my bills and have a good lifestyle. I work on many blogs and other stuff. Sometimes, managing everything seemed tough but ever since I have built my team, managing the work became easier and now things are under control.
In which niches your sites are and how do you share your time and focus between them?
My main area of working is technology. However, I am trying out a few micro niches to test how micro niche blogging is doing.
About time, I am a full-time blogger, and I work around 13-15 hours every day. So time is not a big problem for me, and also since I have a team, I get things done from them, and work is going smooth.
Moreover, my primary focus is my blog www.techtricksworld.com. My 80% focus is on this only, and 20% focus is on other blogs and works.
If you are passionate about something it's easy to devote time to work on them and being focused is not a problem. You need to know which ways are most converting and beneficial and then prioritize your tasks. Follow the schedule, and you will notice that you can do things easily.
Every day when I sit to work, I check my emails first, prioritize the work in hand, and start working on them one by one. I don't work on multiple things at once.
What is your step by step process to optimize a new post to ensure you rank on search engines?
You cannot guarantee your post's ranking as it's up to the Google's algorithm but still there are a few things that you can do to ensure the best on page optimization of your new blog post.
I. I research for keywords and try to find those keywords which have enough search volume i.e. more than 2000 (at least), and then I calculate their organic competition. I choose mainly the low or medium competition keywords.
II. Sort the keywords as the primary keyword and secondary keywords.
III. Put the Primary keyword in the Headline of the post. Try to keep it at the beginning of the title. Now, in the content use your main keyword in the first paragraph naturally, and try to use it at least with 1.5 – 2% keyword density in the content. Try to put that primary keyword at least one time in H1, two times in H2, and one time H3 Tag. And, rest, scatter them throughout the content.
IV. Use the secondary keywords in the article in the natural flow of content. If possible, try to put that too in H2 tag and H3 tags at least once or twice.
V. Interlink your other content of the same blog, and also try to link out some excellent reference articles. When you link out to good resources, Google considers your blog as a useful resource as you direct users to relevant content.
VI. Make sure you add Alt Texts to the images you use in the article.
VII. Keep the post link structure (Permalink) well, and possibly use your keyword there.
VIII. Write detailed content around 1500 words or 2000 words long. Google and even human loves detailed content. So, offer the best, and your articles will earn many natural backlinks which may help you rank better on Google.
I have written a blog post a long ago about On-page Optimization for posts that readers may check out to know the better optimization of their posts.
Note: Usage of keywords is important but try doing it in a way that you do not forcefully include them in the content. They should go with the flow of the content
What free blogging tools do you recommend that you think are essential for any blogger?
I use many free and paid tools for various tasks. It is tough for me to recommend because the requirement of tools differs from blogger to blogger because everyone has different needs.
However, you can use these free tools:
1. Canva – For creating excellent images for your blog posts.
2. Google Keyword Planner – You can use it for keyword research, but it won't give you the organic competition. You have to find out the organic competition manually by searching the keywords in the Google and analyze the authority of the sites ranking on the first page.
3. Kraken.io – A good tool for compressing images. You can compress your images before uploading on the blog to keep the image size low which keeps you page load faster.
4. Onlinelogomaker.com – If you cannot afford the designer to design a logo for you, you can make use of this online tool to make a logo for yourself for free.
5. Mailtrack.io – For keeping track of emails whether they were read or not. When you send guest posting, interview or roundup requests you eagerly want to get replies from the bloggers, but you don't know whether they read your email and ignored or they didn't even read.
In such cases, you can use Mailtrack.io for Gmail that notifies you when they read your emails. It is available for free but for professional features, you have to go for its premium version.
What mistakes did you make when you first started blogging?
In the beginning, I was not aware that how much value content has, and I wrote whatever came to my mind. I posted even 150 words articles as well. Things were fine, but when Google Panda Update rolled out, it did create some problem.
Gradually, I came to know and started to write well researched, well crafted, and detailed content with a lot of screenshots, facts, and information.
So, this was my first mistake that I corrected later.
The second one was when I started to earn from sponsored blog posting; I did sponsored posts a lot without checking the quality of the content that the client used to send us to publish or the links that we are going to link to the article. But, later Google punished me with its Unnatural Outbound Manual Action Penalty, and then I realized my mistake.
Moreover, I got the penalty removed and fixed things.
I deleted more than 300 blog posts from my blog because they weren't high quality or relevant then repurposed more than 100 posts, and I am still doing it. I started to focus more on content quality, and I can say that I made mistakes, but I corrected them before it got too late.
What tips would you recommend for beginners to help them avoid similar situations?
I would advise newbies to focus more on quality from beginning. Don't get carried away of what people say, try to concentrate more on keyword research before you write the content. Do one article a week but make sure it's the best of you.
Don't blindly accept guest posts or sponsored posts. Have a check on them. Try to give no follow links to advertisers' links because they do a lot of postings using similar anchor text, and if you also use the same anchor text to link to them, you may get caught and receive a manual penalty.
Above all, set your goals, and do everything to reach them. Only hard work won't get you success; you need to do smart work at the same time.
How do you pick a topic for a new blog post?
When I started blogging, I posted everything that I wanted. But, now I select the topics after doing keyword research because it gives me an idea of what people are searching. I try to write on those topics so that the posts help people to get the results that they are looking for, and I get more traffic to my blog.
I also check the search queries that show up in my site's Google Webmaster account as it gives me ideas for writing those things that can be a great help for the users.
When you write something that users are looking for, most probably you get more traffic.
For example, when I published a blog post about best wifi routers in India in which I mentioned something about wifi range extenders. After a week I noticed that there were many search queries for wifi range extender in my webmaster but since there was only a small mention of that in the article, people were not getting more info, so I made a separate post on it, and it's getting a good number of hits every day.
This way, people are finding what they were searching for, and I am getting traffic and sales as well.
To search for topics, I read many tech blogs as well to get more ideas of new type of posts. I spend hours researching for new ideas.
It is said that a business it's built from a great idea, so I spend more time on researching for ideas and less time to implement them.
These are how I research and select topics.
How do you earn money online from your site(s)' traffic? Do you use Adsense, affiliate marketing, coaching, eBooks, consultancy, or other services to generate income?
Adsense
Affiliate Marketing
Sponsored reviews
Writing services – not much but offer to a few clients
These four are the main monetization ways I use, and they make enough money for me.
Thanks for having me on your blog, Minuca. I enjoyed the questions and loved to respond to them.
Good Luck
---
Thank you for answering to my interview, Atish! I am grateful that you shared your experience with my readers. Enjoyed reading this post? Please share it with your friends and leave your feedback below.